One-on-One Personalized Software Training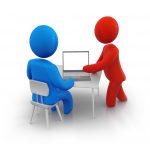 When you first install a computer software application, there could be a million new features and tools but you won't know how to use them all. We're here to get you jump-started with personalized training.
---
Software Tutorials
Are the features of some newly installed software stumping you? We're here to help you master that pesky program.
User Interfaces & Settings
Make sure you've set yourself up for success by learning every knob, switch, and setting at your disposal.

Efficient Operation
Get to know all the shortcuts and quick tips that will improve your efficiency in day-to-day computer use.
Expert Guidance
Need some help deciding what's important in today's ever-changing tech landscape? Guidance and training for beginners is available.
---
Call to schedule your training!